BLESSED MICHAEL SOPOĆKO
(1888-1975)
In Saint Faustina's mission, Divine Providence entrusted a special role to her confessor and spiritual director – Father Michael Sopoćko. He was of crucial assistance to Sister Faustina during her stay in Vilnius (then in Poland) during the period of 1933-193613, helping her to understand her inner experiences and visions. At his request she wrote the Diary, which is a document of Catholic mysticism of extraordinary value. The Diary also presents the sanctity of Michael Sopoćko's priestly life and his contribution to fulfilling the desires of the Lord Jesus.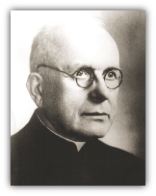 "He is a priest after My own Heart; his efforts are pleasing to Me (...) Through him it pleases Me to proclaim the worship of My Mercy" (Diary, 1256).
"His thought is closely united with Mine, so be at peace about what concerns My work. I will not let him make a mistake, and you should do nothing without his permission" (Diary, 1408).
---
Painting the image of the Merciful Jesus and its exposition for public worship, spreading the Chaplet of the Divine Mercy, initiating the efforts to establish the Feast of the Divine Mercy, and establishing a new religious Congregation – all of this was accomplished in Vilnius thanks to the efforts of Father Michael Sopoćko. Since then, the joint efforts paid for through prayer and sufferings have been emanating throughout the whole world.
"Seeing Father Sopoćko's sacrifice and effort in his work, I admired his patience and humility. This all cost a great deal, not only in terms of toil and various troubles, but also money; and Father Sopoćko was taking care of all the expenses. I can see that Divine Providence had prepared him to carry out this work of mercy before I had asked God for this. Oh, how mysterious are Your ways, O God! And how happy are the souls that follow the call of Divine Grace!" (Diary, 422).
"O my Jesus, You see how very grateful I am to Father Sopoćko, who has advanced Your work so much. That soul, so humble, has had to endure all the storms. He has not allowed himself to become discouraged by adversities, but has faithfully responded to the call of God" (Diary, 1586).
"Once as I was talking with my spiritual director, I had an interior vision of his soul in great suffering, in such agony that God touches very few souls with such fire. The suffering arises from this work. There will come a time when this work, which God is demanding so very much, will be as though utterly undone. And then God will act with great power, which will give evidence of its authenticity. It will be a new splendour for the Church, although it has been dormant in it from long ago. That God is infinitely merciful, no one can deny. He desires everyone to know this before He comes again as Judge. He wants souls to come to know Him first as King of Mercy. When this triumph comes, we shall already have entered the new life in which there is no suffering. But before this, your soul (of the spiritual director) will be overwhelmed with bitterness at the sight of the destruction of your efforts. However, this will only appear to be so, because what God has once decided upon, He does not change. But although this destruction will be such only in outward appearance, the suffering will be real. When will this happen? I do not know. How long will it last? I do not know" (Diary, 378).
"Jesus, this is Your affair, so why are You acting this way toward him? It seems to me that You are making difficulties for him while at the same time ordering him to act. Write that by day and by night My gaze is fixed upon him, and I permit these adversities in order to increase his merit. I do not reward for good results but for the patience and hardship undergone for My sake" (Diary, 86).
"Jesus allows me to know how everything is dependent on His will, thus giving me profound peace regarding the security of His work. Listen, My daughter; although all the works that come into being by My will are exposed to great sufferings, consider whether any of them has been subject to greater difficulties than that work which is directly Mine - the work of Redemption. You should not worry about adversities. The world is not as powerful as it seems to be; its strength is strictly limited" (Diary, 1643).
"I see Father Sopoćko, how his mind is busily occupied and working in God's cause in other to present the wishes of God to the officials of the Church. (…) I have never before come upon such grant faithfulness to God as distinguishes this souls" (Diary, 1390).
---
In his more than two hundred scientific publications, numerous press publications and delivered conferences, Father Dr. Michael Sopoćko developed theological foundations for new forms of the worship of Divine Mercy, devotion which he fervently promoted through his engagement in evangelization and social activities. He wrote formation letters and then drafted constitutions for the first congregation of sisters, which became the root of the established Congregation of the Sisters of Merciful Jesus, according to the thoughts and suggestions of Sister Faustina. He composed and published prayers to the Divine Mercy based on the texts of Sister Faustina, with whom he remained in touch until the end of her life. After Sister Faustina's death, he consistently tried to complete the tasks indicated in the apparitions.
Father Sopoćko wrote in his Diary:
"There are truths that are known and often heard, but not understood. It applied to me with regard to the truth about the Divine Mercy. So many times I spoke about this truth in my preaching, thought about it during retreats, repeated it in church prayers - especially in psalms - but I neither understood its meaning nor buried myself in its essence - the highest attribute of God's external activity. It was only the ordinary nun Sister Faustina from the Congregation of the Sisters of Mary Mother of Mercy (Magdalens), who, following her intuition, told me about this truth, repeating it briefly and often, activating me to research, study and think about it frequently.
(...) at first, I was not sure what it was, I listened, distrusted, contemplated, researched, sought advice from others – just a few years later I understood the significance of this work, the greatness of this idea, and I became convinced about the effectiveness of this old, but neglected, life-giving devotion calling for its renewal in the present world".
---